Testimonials
---

Students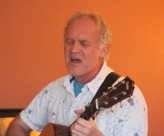 Steve Graham:
After I started taking lessons from you, I started to view music, lyrics, instrumentation and vocal presentation in ways I never did previously. I enjoy all music more because of that, and that has caused me to broaden my musical palette.

There's no question in my mind that, in my life thus far, you have had the single largest influence on me as a musician! I've had two or three teachers over the years, and other musicians have inspired me to want to play, but I never understood the artistry of telling the story until I started taking lessons from you. That's so huge to me! It was like a missing piece of a puzzle finally found.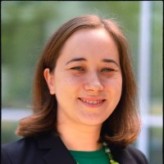 Hillary Emer, Senior Director of Business Services, Interlad Medical Services:
I worked with Amber Nicole on public speaking and presenting skills. She did a great job of providing useful exercises and direct feedback. I enjoyed my sessions with Amber Nicole because of the personal attention and her enthusiasm.


Katie Brown:
I found this cool quote the other day that has really been helping me lately: "it isn't the load that breaks you down. it's the way you carry it," and I have really taken notice of how people handle things in their life. I have really taken you as a wonderful example of how I want to carry my load because I have noticed that even though you may have a million things going on in your life, you never seem to let it bring you down, or better said, you take it as it comes and do the best with what ever situation that's put in front of you. So, I just wanted to say thank you for being that positive example and role model for me.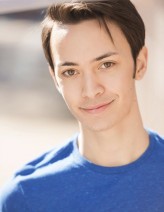 Collin Khamphouy:
I began training with you as a way to supplement my dance training and further my artistic abilities for a career in the performing arts. You immediately noticed that my strict ballet training was a hindrance to a solid breathing technique and we spent a lot of time adapting my body to new vocal habits. As an instructor, you placed a huge importance on personal practice, which I had never experienced from a teacher before. This regiment of personal practice prepared me to stay afloat in the extremely rigorous performing arts program at Point Park University. I also valued you as a personal career advisor to me in the latter part of my high school days. You were always willing to lean on your personal experiences in the business to offer advice. You reached out to your dancer colleagues if you couldn't answer a question I had and you even sent me to my first professional audition in Chicago for a role you thought I would be great for. Your guidance and encouragement led me to seek out Point Park University, which led me to an amazing job as a swing in the Broadway National Tour of Pippin (and I remember picking your brain about the duties of a swing). I would not be where I am today without your instruction.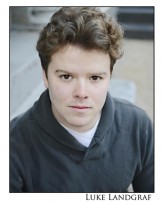 Luke Landgraf:
Thank you so much for letting me take voice lessons with you the past few years. Every time I leave your house I smile because I am so lucky to have you as a mentor! Thank you so much! Its so funny, Ellen, the lady that has been helping with these upcoming auditions, said "Man, your voice teacher knows you really well. These songs are perfect for you." and I thought YES! my voice teacher is amazing! Ahh, Thank you, thank you!
I dont know where I would be without you!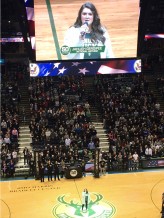 Jahlieh Gardipee (on her way to sing the National Anthem for an NBA game for 13,700 people):
I'm on my way with a big smile and the aftertaste of gross herbal throat drops of glory on my tongue! Thank you so much. I am so thankful I am in your studio!
Read more of her story here



Kathryn Agans:
It has been so wonderful to be your student over the years. You fill your home with kindness, positivity, and music; making it a safe and welcoming place for all. I know you will continue to inspire people through music. Thank you for all of your time over the years. Thank you for putting compassion into a sometimes dark world.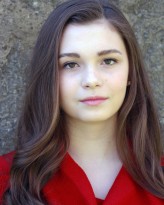 Olivia Foght:
Amber Nicole- I got the scholarship! Thanks for all your help! I'm lucky to have such an amazing teacher!
---

Parents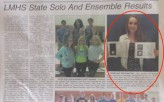 Lori Sanders:
We wanted to let you know about Kara's Solo & Ensemble results that you were such an important part of. At State she received a 1st and an Exemplary Recognition Award on both pieces by two different judges. It was the most amazing performances I have ever heard Kara do in front of others. She did not hold back and was not nervous. Thanks to you she nailed the Italian pronunciations including the rolled r's. She greatly improved her dynamics since district. Neither judge had any suggestions for improvement and told her she needed to consider a music career. She truly peaked for State. She learned so much from you and truly now loves performing for others. You made a big impact in her life and she loved her time spent with you. I attached a photo from our local paper.
... love from both Kara and I



Paula Apfelbach:
I just wanted to thank you again for all of your care, compassion, and excellent instruction with Jennifer since she's been your student. We've really had a great experience in your studio. Thank you again for all you've done; Jennifer always came away feeling cheerful, no matter how she felt going into her lesson. That's the magic and talent that you share.



Jennie Abt:
Thanks for everything! Emily learned so much from you, most importantly a love and appreciation for music. You have such a wonderful way with your students and Emily completely came out of her shell because of you. We're so happy with her musical progress and growth. Thanks so much.



Laurie Schnittman:
Ellie got the part of Tinkerbell! She's very excited, of course. (The director) said that Ellie's work with you really shows because she's so poised when she has auditions -- so thank you for everything!



---
FEATURED ON:
TheHomeSchoolMom's Local Homeschool Directory
---

Professional References

Eva Wright, Emeritus member of the National Association of Teachers of Singing:
Amber Nicole's teaching demonstrates the same kind of passion and know-how that her singing does. I have observed her working with very young and also middle-aged students. She is equally effective with the different ages. They respond enthusiastically to her directions. The techniques that she uses are sound and she obviously has had good training.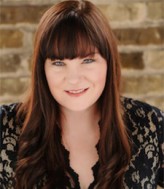 Tanya Kruse Ruck, President (2009-2012), Wisconsin Chapter of the National Association of Teachers of Singing:
It is clear that Amber Nicole is a friendly, energetic teacher who enjoys working with her students. She has developed a good rapport with them and has created a comfortable studio environment. Amber Nicole has the ability to relate to many age groups and meets each student's individual needs based on his/her skill level. She relates the exercises that she has the students explore to what that student is dealing with personally, such as how singing in a Barbershop quartet employs a different technique than singing solo literature. Amber Nicole seems to be aiming for a free, healthy voice production in her students.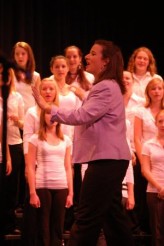 Molly Petroff, Choir Director at Waunakee High School:
I enjoy watching Amber Nicole teach. She inspires the imagination of her students by highlighting the meaning of the text. She asks the students to tell the story of their pieces, bringing magic to their performances. Because she understands that students work best when they have a strong relationship with their teacher, she works hard to connect with students in little ways, even though her time is short with them. Her passion for music and singing is obvious, and she inspires that passion in her students.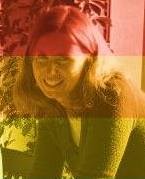 Terri Hilton, Director of Young Actors Ensemble, Chicago area:
Thank you, thank you for instilling confidence & happiness in the little mermaid! I knew that just a little time with you would help a lot!




Keri Krebsbach, Choral Director:
Thank you for judging (Wisconsin School Music Association Solo & Ensemble)! The students absolutely loved you as a judge, and I greatly admired how you worked with them and your feedback with them. The important thing is to encourage students to continue to sing and grow as a musician, and you definitely did that!

Thanks again for judging!
---